Ensure Your Kids Are Safe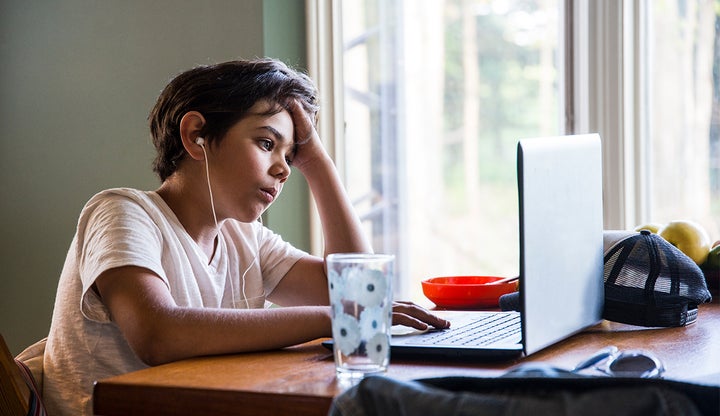 Tips from online safety:
Technology use for kiddos is increasing in this time of  staying safe at home. While your kids are online more and more these days we want to equip you with how to protect your children from online predators and traffickers; as they too are more active online right now.

Online safety experts say:

Explore, play and learn about the apps and games your children like. We encourage you to have fun and join them on the apps they enjoy.
-This can strengthen your relationship with your kids and will give you a chance  to check that the apps they are playing are safe.
Set high privacy settings on your children's games and apps.
Have regular conversations with your children on how fun, good and dangers technology is.
-Kids love technology and when asked about it,  they love to talk about it. 
-This will keep you in the loop with what apps your children are engaging in. This will also help you build trust with your child and normalize conversations on tech as they grow up; which is key for ongoing  prevention and safety interventions!

Establish a safety plan with your child. 
-When explaining the dangers of technology express to them if they ever come across anything inappropriately or if someone reaches out to them they do not know or if they do something they shouldn't to always come talk to you. This will show them that you want to love and protect them from harmful people.

Have rules set in places that everyone in your family follows

.

 
-Some recommendations are no cell phones at bed time or creating a technology agreement and putting it in a public place to remind the family of this mutual agreement.

Have conversations with your children about pornagraphy, sex and sexting. 
–Many online safety specialists say it's important to talk about these topics  to help prevent your child from falling victim to receiving this content, being lured into giving it or being exploited. This will also help them feel confident coming to you if they view heavy content in the future.
Stay up to date with sites that have been found to lure children into sexual exploitation, bullying and sexting.
 – If your child is using apps that are high risk of these things block them  immediately.
 Having regular conversations with children and engaging their online world helps keep our kids safe and shows them we are for them and technology use. It also helps ensure if your child does come across predators in the future they feel more comfortable talking to you about it, as you have built it into normal conversation. If you would like more information on online safety tips and details on the dangers and positives to the apps your kids are using see the resources below. These resources also help teach you how to have conversations with your children on these challenge topics,how to set up privacy settings in various apps and they contain educational videos for online safety for different age groups.

Resource list:
NSPCC: Has a list of helpful videos on how to talk to your children and engage them in conversations about social media, staying safe in online gaming and what to do if your child has viewed inappropriate content. They also contain information on why kids are using certain applications, what parents reviews of them are and their safety concerns. https://www.nspcc.org.uk/keeping-children-safe/online-safety/
Shared Hope: Has an online toolkit for conversations about sexting, online safety and social media. This cite has helpful tips for engaging in anti-human trafficking efforts as well. https://sharedhope.org/what-we-do/prevent/awareness/internetsafety/
NetSmartz.org: This site, created by the National Center for Missing & Exploited Children, has videos that are geared toward different age ranges, as well as videos and information for parents for education with online safety. It also serves as a tip line for suspected child sexual exploitation.

Educate empower kids: Helps you talk about social media, texting, sexting, and other concerns we have as we parent in the digital age. They sells books that help with age appropriate talks on sex, pornography and online safety."30 Days of Sex Talks for Ages 8-11 and 12+ talk about social media and texting" https://educateempowerkids.org/dangerous-apps-2019/

Family Online Safety Institute: This site has a printable Family Online Safety Contract, as well as other tips and resources for parents. https://www.fosi.org/good-digital-parenting/family-online-safety-agreement/
Common Sense Media
Common Sense is the nation's leading nonprofit organization dedicated to improving the lives of kids and families by providing the trustworthy information, education, and independent voice they need to thrive in the 21st century.
Internet Safety for Kids
Information and guidance to parents to help under the digital world.
Parents' Guide to Blogging Safety: This article talks about the risks and benefits of children starting their own blogs, with tips for blogging safely. https://blogging.com/parents-blogging-safety/
Who to contact if your child is in danger

Local police:

If your child is in immediate danger, you should call

911

. Otherwise, you can call your local police's non-emergency number to report a problem.

CyberTipline: Visit www.cybertipline.com or call (800) 843-5678 to report crimes against children, including online enticement of  children for sexual acts, obscene material sent to a child, and child pornography.
If your child has seen inappropriate content online, you can:
Talk to your child about what they've seen


They might have questions or worries that you can answer. It's also a good opportunity to let them know what is, and isn't, appropriate for their age.

Reassure them


Tell them you're glad they spoke to you about this and let them know they can come to you and other trusted adults.

Set up parental controls


You can find out more about

parental controls

by going to NSPCC website for help with controls specific to certain phone Apps.

Report the content


It is important to report the content so these images and videos are shut down and protect those individuals from being further exploited with each click on the internet.
Children may experience lots of different emotions when they see inappropriate, upsetting or distressing content online. It's important to talk to your child about what they're doing online and let them know to come to you if they see anything that upsets them.